Classes
The classes below are available to the piano trade. To view classes for pianists, teachers, students, and piano dealers, click here. About the Instructor is at the bottom of this page. Please inquire about pricing and scheduling. View previously Held Classes.
---
---
Practical Touch™ Analysis: A Four-step, Non-invasive Grand Touch Evaluation Method
(1.5 hours [1 period], 3 hours [2 periods], 6 hours [4 periods], 1- or 2-day workshop)

View class handout (for crisper photos, get the high-resolution version)

You are about to install new hammers. The owner has been complaining about heavy touch. You regulated the action, but it still feels uneven. What do you do? Use lighter hammers, lighten existing hammers, add lead weights, install the TouchRail, or put in turbo wipps? Change the leverage ratio? But what will that do to the key dip? Blow distance? Will the action feel inert or feel light but hard to control? Will it repeat poorly, or feel "too fast"?
Wonder no more. In this class you will learn how you can evaluate grand action performance in a few minutes, with four quick measurements. You don't even have to pull the action out of the piano! I'll show you how to use the free calculator spreadsheet to play what-if scenarios, decide the best course of action, and even predict how many leads to install and where along the front segment of the key. And as a lagniappe, you will learn to measure how dampers contribute to touch. This class will leave you wondering why action optimization has always been rocket science. It's time to change that!
Whether you are starting with brand new parts or analyzing a completely assembled action, this time-saving approach will put you in control and allow you to improve the outcome of your action work with little additional time--and cost--added to your projects.
ANONYMOUS CLASS EVALUATIONS:
"Impressive encyclopaedic knowledge with combined experience of a pianist, analyst, and learned practical craftsman. The lecture truly was a joy."
"Very informative and useful. I will use your system in future projects."
"Well put together presentation. You kept my attention pretty much the whole time."
"Fantastically comprehensive. Feels like a great tool for a piano technician. The presentation was very fluid and informative. Thank for sharing this knowledge!"
"Loved audio/visual/kinesthetic presentation! Covered and nailed in how to measure and plug into the spreadsheets."
"The calculator is excellent accompaniment to the book and invaluable to future work in this industry. Bravo!"
"Great material, brilliant perspectives. Nice eye-opening."
"Good combination of overview and detail (macro vs. micro). Easy to understand and offered to many free tools and resources."
"Comfortable and approachable presentation style."
"Simplified 'Stanwood'."
"You presented [the subject of touch weight and ratios] in such a warm and friendly way, that it now seems less intimidating and actually knowable."
"Brilliant presentation ... extensive and detailed analysis of a lot of overlooked topics in this industry ... phenomenal work."

CLASS AGENDA:
1st period: History, About Practical Touch, How the Action Works, Procedure, Analysis (Spreadsheet), What Total Divergence Means, About Precision, How Dampers Affect Touch
2nd period: Preparing Measurement Tools, Measurements Tips, Kit, Optional Tools, Refining Precision with Optional Measurements, Measurement Alternatives, More on Dampers and Touch, How the Spreadsheet Works
3rd period: Hands-on: Measuring and Analyzing Touch in a Real Piano
4th period: Overview of Solutions for: Friction, Touchweight, Inertia, Altering Action Leverage, Key Dip, Blow Distance
PRINCIPLES AND TECHNIQUES ACQUIRED:
Assess touch without disassembly
Learn how to use the Practical Touch calculator
Understand how different aspects of touch relate to each other
Techniques for measuring distances, forces (weight), and leverage
How regulation and voicing affect touch
How to solve common touch problems
How to prioritize touch solutions
Available non-invasive, add-on, and invasive solutions
---
UNDER DEVELOPMENT:
Practical Touch™ Adjustment: Balancing and Inertially Adjusting the Grand Action
(3 hours [2 periods] or 6 hours [4 periods])

This is part 2 of the popular Practical Touch class (at least one class period of Practical Touch Analysis is a prerequisite for this class), in which solutions for balancing and inertially evening a grand action are discussed. The class covers a typical touch adjustment procedure, demonstrating how to use various time-saving measurement techniques and the new software calculator. We will talk about determining the mass of replacement hammers, adjusting the mass of existing ones, calculating the hammer boring distance and backcheck height, spotting common geometry problems, sorting hammer shanks by density, and adjusting friction. Techniques for modifying the action ratio will be discussed in the order of practicality, cost, and functional priority.
You will learn how to determine where and how many key leads to install without removing the action stack while simultaneously tracking balance weight, front weight, strike weight, friction, action ratio, and anticipated inertial response through various in situ measurements. The spreadsheet calculator will help you visualize the progress and check measured values against recommendations, which are treated as points of reference, not rigid rules. The result is a statically and inertially balanced action with uniform friction, achieved in just a little more time than it takes to measure and install lead weights using the traditional downweight and/or upweight method.
This class doesn't go deeply into rearchitecting action geometry nor does it cover every touch challenge, but it provides considerable value for dealing with the majority of grand actions worth rebuilding. The class makes this intimidating topic more approachable and greatly reduces the amount of time needed to produce balanced and even actions predictably and consistently.
BENEFITS OF THE CLASS
Increased awareness of the factors other than downweight and upweight
Becoming more comfortable with grand action balancing and installing lead weights
In situ measurement techniques
The use of the action balancing calculator
Practical approach to adding or removing key leads.
---
Grand Action: A Balancing Act
(1.5 hours [1 period] or 3 hours [2 periods])

View class handout, DW/UW cheat sheet, Measurements worksheet
This introductory class explains how the grand action is balanced, introducing concepts such as action leverage, hammer "strike weight," downweight, upweight, balance weight and friction. The class explores how these aspects interact, how to measure them in a way that is compatible with the Stanwood and Practical Touch protocols, and why understanding them is useful. Students learn to calculate the balance weight and friction from down and upweight information both mentally and with a formula. Class participants are encouraged to take measurements and to compare measurements on several notes throughout the range.
ANONYMOUS CLASS EVALUATIONS:
"Outstanding presentation skills in every aspect. Aim for him, as many workshops as he will give. He is amazing."
"Reminder of and slightly different way of looking at how [and] why Stanwood formula is helpful."
"Best class I've been to yet! Liked that we could download notes offline to be able to give full attention to what you were saying!"
"Walked a line between highly technical concepts and practical concrete examples. It rounded my knowledge of a complex yet ignored system."
"It can make a difference in my rebuilds without taking too long to be practical."
"Deepened my understanding of the grand action parts and how they interreact. Practical tips to use clips were good."
"Helped visualize some complex concepts. Simplified function of action levers."
"Comprehensive, clear. Distilled information to its crux. Provided methodology and options for improving touch."
"Clear learning points, summary points page ... Useful refresher on concepts."
"[You] taught something I didn't know in a way that I could understand."
"Brought up all the perspectives on how to understand and make it practical in the field."
"Introduced touch weight well for a new technician."
"Very well organized and systematic."
"Very informative and knowledgeable."
"Explained in such detail, thank you!!!"
"Good pace, good visual/lecture pairing."
"Please open more classes. He is a really knowledgeable lecturer!"

---
How Our Work Affects the Pianist
(1.5 hours [1 period] or 3 hours [2 periods])

View class handout
Do we see ourselves as technicians or enablers of enjoyment of music? Are we focused on technical excellence while neglecting true customer needs? This class explores how the myriad technical choices we make every day affect our most important customer—the pianist. Learn how tonal (im)balance affects the perception of needed touch force, why drop must not be too deep, and how keyboard affects the perception of touch. Find out how the player perceives each technical aspect of touch and discover pianist's top 10 priorities. In this intriguing and dynamic class Mario demonstrates what so many pianists struggle with by playing brief excerpts from classical piano literature.
ANONYMOUS CLASS EVALUATIONS:
"Attending to interest of the group even when the questions were borderline off topic, you were able to relate back to your objective."
"Thank you for sharing your time and experiences in servicing not only the piano but the client (pianist)."
"New info from an actual pianist/tech."
"Advanced approach."
"Brought out the most important aspects of our work."
"Gave me a different perspective to try."
---
Discoveries, Surprises, Lessons Learned: On the Journey to Pianos Inside Out
(1.5 hours [1 period] or 3.0 hours [2 periods])

View class handout
Having resurrected a book project he started in 1988 while teaching piano technology at Louisiana State University, which resulted in the publication of Pianos Inside Out in 2013, Mario observes how the piano world has evolved in the last 25 years. We've learned a lot about the soundboard including how to replace it, yet some concepts are still unintuitive. We finally treat center-pin friction as torque, and modern lubricants have changed what we can do for the better. Measuring action forces and weights doesn't require disassembly, and our understanding of touch and playability is significantly improved. A collage of topics that will surprise even the most informed technician.
---
What Matters, What Doesn't: Prioritizing Work in a Changing Market
(1.5 hours [1 period] or 3 hours [2 periods])

View class handout
In the era of tight budgets and dwindling amateur use of the piano, paying attention to the needs of a serious piano performer, teacher, and student is a must. With his unique perspective as a pianist, former head technician at Louisiana State University, and a concert technician and rebuilder, Mario Igrec will explore prioritizing servicing and prep for our most lucrative market--the piano professional. We can no longer afford to spend a lot of time on the stuff we're comfortable with, convincing ourselves that "that must improve things." Instead, we must focus on procedures that mean the most to the player. Join Mario on this journey of What Matters and What Doesn't and learn to see your work through the eyes and fingers of the pianist.
ANONYMOUS CLASS EVALUATIONS:
"An excellent class to help techs focus on what's important!"
"There was an intentional focus on demonstrations of how a pianist/piano interprets the effect of the [discussed] adjustments."
"Useful ideas [that] apply to trouble-shooting and testing piano."
"Time [was given] for details of complex situation. [The class offers] potential for customer satisfaction."
"Kept control of group comments. He knows so much about so many topics... And he can play, too. Very organized and his presentation was very understandable while holding the interests of the most experienced in the group."
"[Mario Igrec offered] concepts rather than just measurements, specs, or procedures. Fine overview of best modern practices."
"Brilliant, thorough and amusing. Expanded my practical and theoretical knowledge."
"Vast knowledge of the piano."
"Made me think more about the pianists' needs instead of pleasing the piano tech gods."
"There need to be more musicians who are also good technicians."
"I am very happy to hear the voice of musicians and what we can do for them. This is the core of our work!"
"One of the best classes."
"[Good] use of humour and body language to keep our attention."
PRINCIPLES AND TECHNIQUES ACQUIRED FROM THIS CLASS
Prioritizing servicing to address pianists' real needs:
Considering purpose/use of the instrument
Importance of lubrication and climate stability
Seeing yourself through customer's eyes
How a pianist tests grand action
Observations as clues
Grand action regulation and voicing tips and techniques
---
Fazioli Pianos: A Voicer's Perspective
(1.5 hours [1 period])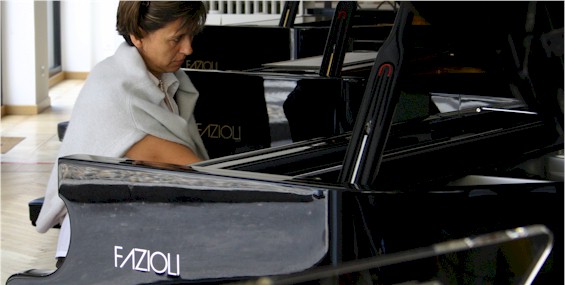 Fazioli grand pianos have fascinated pianists, audiences, and piano technicians for over four decades. What is the secret of success of this company that keeps growing while other manufacturers experience declining demand?
This class, only available in venues with Fazioli pianos, is an overview of qualities and characteristics that define the Fazioli sound and touch. Hear musical examples that demonstrate how the Fazioli sound differs from other pianos, then observe how to service the action, and learn the voicing techniques that support the Fazioli tone. The class ends by the showing of a video shot at the Fazioli factory in Sacile, Italy. The video reveals production techniques that not only explain the Fazioli features, but that can be of real value to any piano rebuilder.
---
UNDER DEVELOPMENT:
Let's Get Real: Touch Perception and Thresholds of Discrimination
(1.5 hours [1 period] or 3 hours [2 periods])

For an action to play and feel evenly, the touchweight, friction, and inertia must be within tightest possible tolerances. But what are those tolerances? In this thought-provoking class, Mario Igrec, a pianist, piano technician and author of a recently published book "Pianos Inside Out," challenges the myth of precision in action work by asking questions such as:
How much do action parts deviate from intended dimensions, weight, and friction? How much do they change, and how does that affect touch?
To what extent do finger touchpoint variations affect key dip, touchweight, friction, and inertia?
How much do variations in strike weight and leverage really affect the perception of touch? Is inertia perceived lineraly or logarithmically?
How much does touch (static and inertial) change as hammers get reshaped?
How does the pianist perceive the effect of damper forces on touch?
How do regulation, defrictioning, and voicing affect touch?
To what extent do soundboard resonances and impedance issues affect the perception of touch?
What role do action noises play in the perception of touch?
Learn what aspects of touch really matter to the pianist, and to what degree of precision they need to be controlled. Sharpen your view of touch optimization with the pianist in mind.
---
About the Instructor
MARIO IGREC, RPT, M. Mus., is Chief Piano Technician and Manager of Piano Maintenance at the Juilliard School. He bridges piano technology and pianism, and provides a unique perspective as a master craftsman and award-winning pianist. Mario is the author of Pianos Inside Out, "the most ambitious book on piano technology ever written" (Piano Technicians Journal), and has created Practical Touch™, a system for advanced action performance analysis. He was Chief Concert Technician at Faust Harrison Pianos in New York, taught at North Bennet Street School in Boston, and served as head piano technician at Louisiana State University in Baton Rouge. As an independent concert technician and master rebuilder, he has worked for Richard Goode, Jon Kimura Parker, Garrick Ohlsson, and other renowned pianists. A Registered Piano Technician (RPT) of the Piano Technicians Guild, Mario is a frequent lecturer and instructor at technicians' meetings and conferences.
Previously Held Classes
April 2, 2018: Piano Technicians Guild NYC chapter meeting
Bösendorfer factory virtual tour
7:30 - 9:00 pm
Faust Harrison Pianos, 207 West 58th Street, New York, NY 10019

February 17, 2018: Piano Technicians Masterclasses
Grand Action: A Balancing Act
Live Interactive Online Lecture (a new online lecture series)
Piano Technicians Masterclass

January 9, 2018 7:00 pm: Piano Technicians Guild New Jersey chapter
Grand Action: A Balancing Act
Forte Piano Music Company, 159 NJ-4, Paramus, NJ 07652

October 10, 2017 6:00 pm: Piano Technicians Guild Nassau chapter
Fazioli pianos: A Voicer's Perspective
Faust Harrison Pianos, 207 W 58 St, New York, NY 10019

September 20, 2017 7:00 pm: Piano Technicians Guild Connecticut chapter
How Our Work Affects the Pianist
Faust Harrison Pianos, 322 Black Rock Turnpike, Fairfield, CT 06825

June 9 and 10, 2017: ASETAP Spain (Asociación Española de Técnicos y Afinadores de Pianos)
Practical Touch Analysis seminar (two days)
Segovia, Spain